Foodservice Italy 2014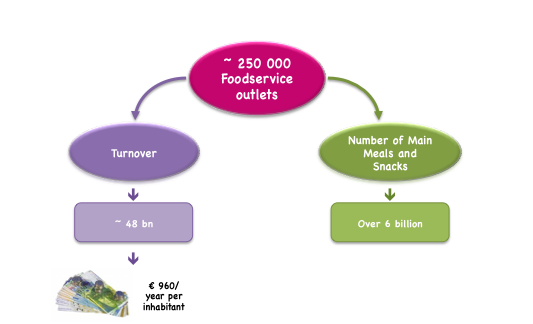 GIRA Foodservice updates a multi client market study about the structure of the Foodservice Market in Italy. This new version gives an overview of the Foodservice market in Italy based on 2013 key facts & figures as well as historical series from 2009 and trends to 2014.
After a recession period, the Italian foodservice market has shown some signs of recovery especially in restaurants traffic. But as a result of the financial crisis and major social changes, Italian's food habits have changed significantly, that have been obviously reflected in out-of-home consumption. In addition to having introduced more cautions consumer habits and more austere lifestyles, the financial crisis consolidated trends that were already in evidence prior to the advent of the challenging economic situation.
Ways of perceiving and experiencing out-of-home consumption have, in fact, changed in particular in terms of opportunities, venues and patterns of consumption with:
change in the choice of eating places

globalised consumption models reflected either in convenience food or in the selection of ethnic restaurants
the need for social interaction that drives consumers to continue to eat outside the home, albeit limiting the frequency to weekends or reducing consumption and drinking wine by the glass.

The aim of the study is to provide information on:
The

size and structure

of the Italian foodservice market including the

detailed analysis of the activity of the various operators

(contract caterers, restaurant chains, transport operators, concession sites foodservice operators)
The identification of the

opportunities & key trends

of the Italian foodservice market but also the

threats

linked to the economic environment and to the competition
The study is available in Italian and English
For further information, please contact: Remi VILAINE 0033 (0)4 50 20 16 35 - remi.vilaine@girafoodservice.com
Mariarosa DE AMICI 0039 347 688 3908 - mariarosa.deamici@gmail.com
Haut de page