The Commercial and Social Foodservice Markets
Changes in the restaurant and catering sector
An historical analysis of these markets shows that the foodservice offer to consumers is becoming increasingly complex, due to societal changes that influence consumer behaviour: factors such as a desire to make the most of free time, decision-making between consumption options, changes to working practices and increased commuting time have had a major impact on food consumption habits outside the home.
Consumers have become less predictable in their choice of establishment from day to day, and in the services that they choose (food or beverages). The most obvious consequence of these changes has been the strong growth of "snack" food, which is now offered by a range of different restaurants, catering outlets and points of sale.
This phenomenon had a long history in the United States before it started to appear in European markets, first in northern Europe and then in the south. This development has by now affected the whole of Europe, leading to a proliferation of fast food outlets of all kinds, an increase in the range of hand-held snacks available in bakeries, exponential growth in the number of "snack corners" and city-centre convenience stores.
For all operators, suppliers and distributors in the market, the process of developing a sales strategy has been complicated, requiring them to adapt their expertise and offers to account for the rapid pace of change in market practices.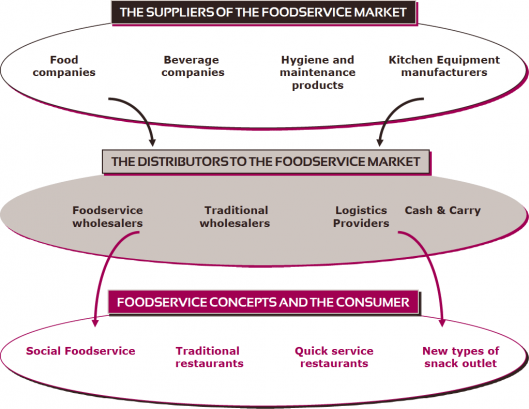 Top