Studies covering Beverages in the Out-Of-Home Market
Hot beverages, Cold beverages
In France, food and beverage purchases by Foodservice outlets of all kinds are expected to reach €25.7 billion in 2012, with beverages representing around 30% of total purchases.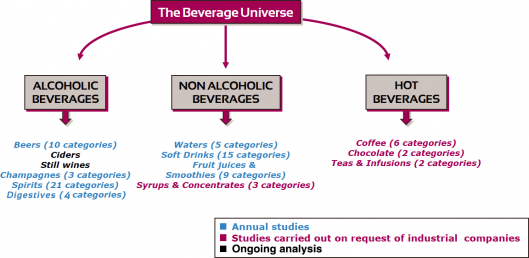 GIRA Foodservice continually monitors purchasing activity in the majority of beverage categories. These categories are based on the specific features of different beverage sectors:
The content of these studies is standardised. It includes:
an analysis of consumption in each out-of-home sector, including details of the market share of each brand and group, details of product packaging and details of supplies based on qualitative variables (flavours, consumption practices, etc.)
an analysis of industrial TRADE sales, with detailed figures for each distribution chain (direct, beverage wholesalers, restaurant and catering wholesalers, confectionery wholesalers, cash & carry outlets)
short- and medium-term consumption forecasts, by restaurant and catering sector and by product group.
Our customers include