Database of Social Foodservice Outlets in France
75,000 group restaurants in France
GIRA Foodservice uses this database to monitor the activities of outlets in all segments of social Foodservice. This database is regularly by its specialist survey team.
The first directories were published in 1978 and, over the years, GIRA Foodservice has covered all 35 sectors of the social Foodservice market.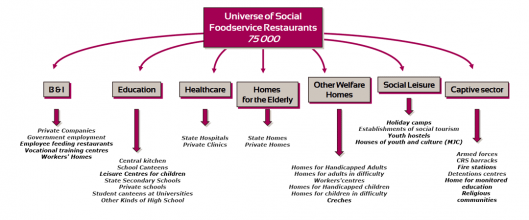 GIRA Foodservice offers the following sequence of information for each sector of social Foodservice:
restaurant contact details
opening times (breakfast, lunch, dinner)
restaurant status
restaurant management practices
capacity and staff numbers
volume of meals
presence of a restaurant or kitchen
The profiles of the individual Foodservice outlets can be sorted based on pre-defined criteria.
Top